Dragonheart Vermont (DHVT) is a dynamic dragon boat organization located in Burlington, Vermont. Dragon boating is a fast growing team paddle sport that embraces athletes of all ages, gender, and abilities. We began as a breast cancer survivor team. Today, we are that and so much more.
Dragonheart Vermont presently has 225 members that make up our 10 different teams. Our actions stand out both on and off the water. Our DHVT teams excel and have been named National and World champs. We are committed to our Vermont community and host the Lake Champlain Dragon Boat Festival where people in our community team up to race dragon boats for charity.
Dragonheart Vermont is a team with HEART!
Mission
Dragonheart Vermont strives to strengthen and empower breast cancer survivors and supporters through the challenging sport of dragon boating, instilling in its members the values of teamwork, fitness and community giving.
Our Board of Directors guides the operation of the organization, keeping us focused on our mission.
Feeling inspired by our mission? Scroll down to read more and

SURVIVOR STORIES
Our members inspire us every day with their stories of courage, strength, and recovery. Listen to their stories and let them inspire you too!
History of Dragonheart
The dream of having a dragon boat team for breast cancer survivors here in Burlington began in 2004 with the hard work of founders Linda and John Dyer. In that first summer, the new team paddled in a borrowed boat (thank you, Peter Lew). After returning the boat, Dragonheart Vermont began to share its story with the hope of raising funds for our own dragon boat. Our families, friends, neighbors, and co-workers responded generously. Fletcher Allen Health Care Radiation Oncology Department, helped tremendously as we raised enough money to take delivery of TWO beautiful dragon boats by May of 2005.
Many of our stalwart paddlers who hopped in the boat with such gusto in Dragonheart's first season are still paddling with us today. We affectionately call them our 'originals.' They've been joined by many other supporters and today Dragonheart Vermont runs 225 strong. Our ten teams now have access to seven long boats and two small boats for multiple practices each week. Our breast cancer teams compete successfully in international competitions and have brought home gold and silver medals. Our supporter teams have joined them as national champions and solid competitors on the world stage. Most recently, six of the seven DHVT teams entered in the 2023 National Championships (Sarasota, FL) earned an opportunity to participate in the 2024 Club Crew World Championships in Ravenna, Italy. Our Sisters team were again crowned the National Champions.
Dragonheart Vermont's commitment to community giving gave rise to the Lake Champlain Dragon Boat Festival in 2006. We work year round to make this charity event a Burlington summertime favorite and give back to our community through the festival fundraising efforts. We have replaced the docks at the Community Boat Launch for all of Burlington to use, added an adaptive kayak launch, and supported many community organizations that support cancer survivors. Check them out here:
Information on Races
Dragonheart Vermont crews race all summer, primarily in New England, Quebec, and Ontario. The standard dragon boat race is 500 meters. The shortest race is 200 meters and the longest race is 2000 meters. Racers love the 2K because it involves three turns on an oval course–lots of thrills!
In 2024, we will be focused on preparing our six qualifying teams for the Club Crew World Championship races, to be held in Ravenna, Italy in early September.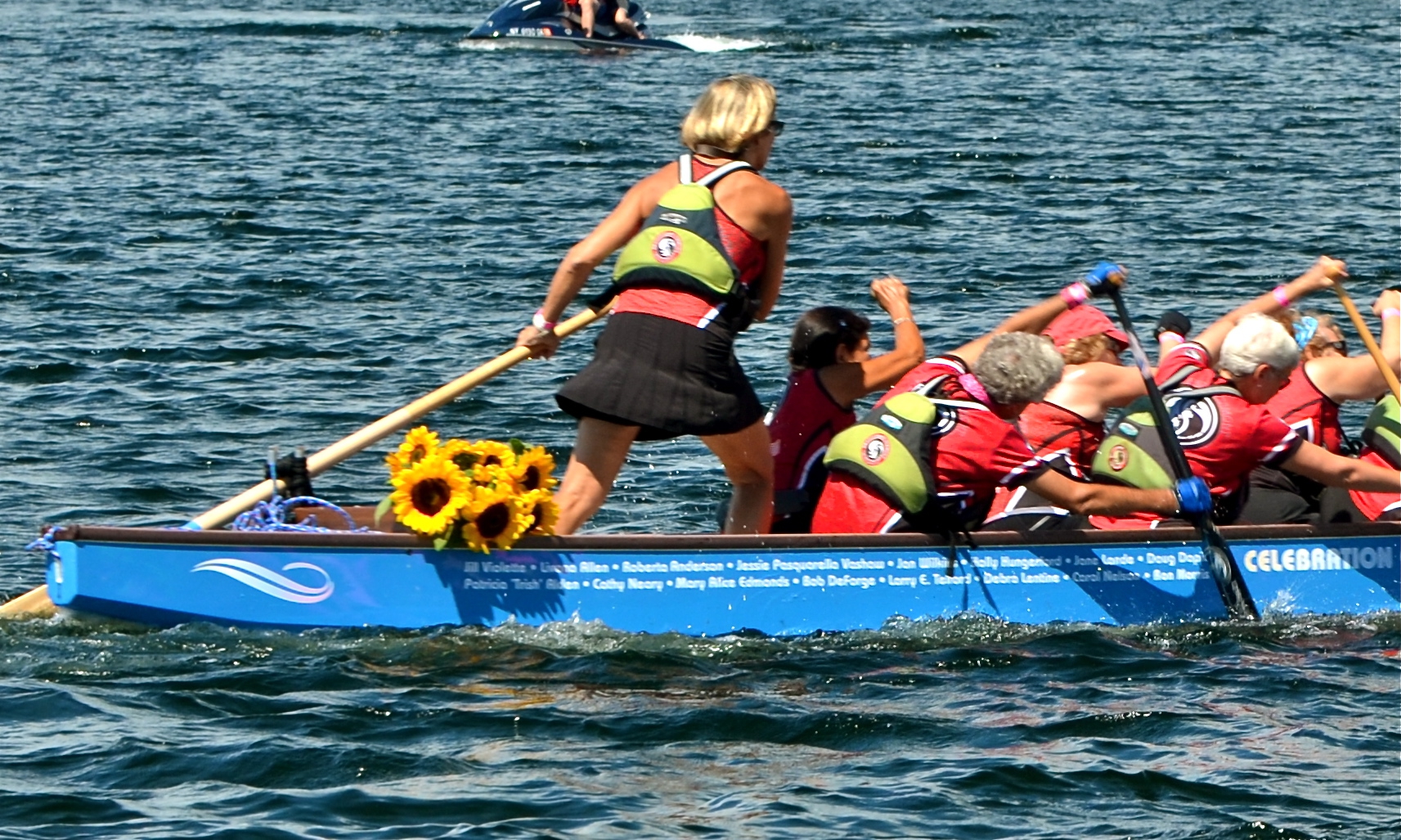 About Dragon Boat
Born of a time-honored Chinese tradition, dragon boat racing today engages more than 50 million people worldwide every year. Dragon boats are about 41 feet long. Twenty paddlers sitting two by two stroke in unison, guided by a drummer at the front and a steersperson that keeps the boat on course. The boat glides when all 20 paddlers stroke in time.
Dragon boating has gained its popularity because of its inclusive nature, embracing people of different ages, genders, and abilities. It is the ultimate team sport! In addition to youth, premier and senior teams, the sport includes teams of cancer survivors, paraplegics, and the visually impaired. Dragon boating offers an equal playing field for all. What other sport can match that? The key to success for a dragon boat team lies in the team members' ability to stroke together. It's teamwork at its best — 22 hearts beating as one!