Banchors Aweigh! – Northfield Savings Bank
Captain: Kristin O'Connor
Many banks have a long history. Northfield Savings Bank has something even more powerful. From the day of our founding in 1867 and continuing to today, a constant and resilient thread of meeting and supporting Vermonters in the moment has defined us. This powerful legacy fuels our actions, shapes our character, and separates us from other banks and credit unions.
We are proud to be Vermont's largest local bank with 16 locations serving over 35,000 consumer and commercial customers. We are also one of Vermont's few remaining mutual savings banks, owned by our depositors, not shareholders, and offering investment services through Northfield Investment Services.
We are proud to participate in the Lake Champlain Dragon Boat Festival supporting Dragonheart Vermont and the McClure Miller Respite House.
Beta Motor Boaters – BETA Technologies
Captain: Jeff Solomon
BETA Technologies is a Vermont-based electric aerospace company developing an all-electric vertical takeoff and landing (eVTOL) aircraft, the ALIA. Additionally, the team is also developing accompanying multimodal charging infrastructure and training programs to provide an end-to-end solution that enables greener, safer, and more efficient transportation. BETA is composed of passionate doers and builders from a wide variety of industries and locations that are looking to contribute to the community in a meaningful way and show their support for cancer survivors.
(The) Blazing Paddles – Genesis
Captain: Carol Chevalier
BT-Hetis – Burlington Telecom
Captain: Chad Harrington
Burlington Telecom is a telecom provider that does things differently. We believe in treating our customers with the respect they deserve, while providing the best possible experience. We are made of employees, friends, and relatives to paddle in the Lake Champlain Dragon Boat Festival. Our team name "BT-Hetis" is an ode the Greek mythology's goddess of water, "Thetis", combined with our shorthand for Burlington Telecom, BT. thus, BT-Hetis was formed! We look forward to supporting the McClure Miller Respite House on this 17th Anniversary of the Lake Champlain Dragon Boat Festival.
Cancer Avengers – UVM Cancer Center
Captain: Kim Dittus
The Cancer Avengers are UVM Oncology Medical Center staff, faculty and friends who are all focused on erasing cancer and allowing everyone to life a healthy, happy life. We race in support of the McClure Miller Respite House.
Cancer Patient Support Foundation Hope Heroes
Captain: Jennifer Sullivan
The Cancer Patient Support Foundation (CPSF) is an independent, nonprofit organization. We serve Vermont cancer patients and their families in a time of extraordinary need by providing financial assistance and support during diagnosis, treatment, and recovery. The Foundation's vision is that all who face cancer can do so with dignity, confidence and serenity.
Champlain Cable ChampMonsters
Captain: Kathleen Dwinell
Here at Champlain Cable Corporation we are engineers, scientists and inventors. For over 60 years, we have been proudly inventing and manufacturing indispensable wire and cable solutions for nearly every major US industry. We're unique for our materials science and irradiation capabilities, enabling us to develop high-performance wires and cables for the world's most extreme environments. Our commitment to quality, reliability and safety is unwavering no matter how demanding the environment.
We are thrilled to be a part of this festival helping Dragonheart Vermont and the Vermont community raise money for the McClure Respite House.
City of Burlington One – City of Burlington
Captain: Tim Williams
We are City of Burlington One, an enthusiastic dragon boat team comprising City of Burlington employees, their family members, and friends. Together, we form a diverse and passionate group, all eager to get into the water for the 17th annual Lake Champlain Dragon Boat Festival. Our team is fueled by camaraderie, team spirit, and a shared love for the beautiful city of Burlington, Vermont. As we set sail on the pristine waters of Lake Champlain, our mission is to showcase the strength, unity, and determination that define both the City of Burlington and its exceptional workforce. We come from different departments, backgrounds, and experiences, but in this dragon boat, we are one, united by the common goal of representing our beloved city with pride and enthusiasm. For many of us, this dragon boat festival marks the first time we've experienced this exhilarating water sport. The thrill of paddling in unison, the anticipation of the starting horn, and the camaraderie that comes with being part of a team are electrifying feelings we can't wait to experience together. Our hearts beat in sync, and our spirits soar with excitement as we eagerly prepare for this momentous event, all while giving to a wonderful organization, and a heartwarming mission.
Collins Aerospace Boats of Glory – Collins Aerospace
Co-captains: Wendy Hildebrand, Alex Kasemeier and Shane Lawrence
Aerospace gurus from United Technologies. If we can make aircrafts fly, you can only imagine what we can do in the water!
Community Bank A Team Paddlers – Community Bank, N.A.
Captain: Jon Roddy

Community Bank Hakuna Ma Ta Tas – Community Bank, N.A.
Captain: Christopher Blackler
Our employees come from Vermont and New York and bring 100% enthusiasm as they paddle together at this year's Lake Champlain Dragon Boat Festival. HaKuna MaTaTa means 'worry free for the rest of your days' and that's our cancer free philosophy! Community Bank, N.A. is happy to help support cancer survivors in our community.
CrossFit Burlington
Captain: Molly Purvis
Introducing the CrossFit Burlington and Burlington PT Dragon Boat team. This dynamic duo of CrossFitters and physical therapists is the perfect combination for forming strong, healthy, mobile humans.

At CrossFit Burlington they strive to create an all-inclusive environment where CrossFit is accessible to all. They believe that long term fitness equals health, and these boaters are a testament to that.

Where brawn meets boats, and muscles turn into paddling powerhouses! This wild crew of water warriors is not your average bunch – they're an awesome crew of strong humans that prioritize community, health and staying strong.

When this crew hits the water, it's like Thor and Aquaman decided to form a partnership, and the result is pure pandemonium in the best possible way.

This crew loves to work hard and share a few laughs. They strive to build each other up, and are committed to enjoying their lives to the fullest for many more years to come!

Remember folks, we are always "Stronger Together".
CVMC Rehab Dragonflies
Captain: Christie Sternbach-Feist
DHVT Fun-raisers (Fundraising Team)
Captain: Cathy Buck
DHVT Power Dragons (Sport Team)
Captain: Brett Haug
DHVT Sisters and Soul Sisters (BCP and Fundraising Team)
Captain: Cathy Buck
Dragonheart Vermont Sisters and Soul Sisters are part of a breast cancer paddler dragon boat club from Burlington, Vermont. We have a special sisterhood that focuses on living well, laughter, strength and joy. We have been lucky enough to travel the world together and also paddle right here at home on beautiful Lake Champlain. We are sisters at heart, joined in the race to end breast cancer…..at last.
DragonFire (Sport Team)
Captain: Claudette Azevedo
Hartford's DragonFire team has been paddling on the Connecticut River for over 12 years. In fact, they're the only original Hartford dragon boat team still in existence (how's that for commitment!) They began as the "lunch bunch" crew, and since that time, have grown into quite an eclectic crew. Paddler ages range from mid-20s to earlier 80s (yes, you heard that right)! Although they began as a "mostly women" team, they've recruited some men over the years with a lot of heart (and a bit of muscle) to join them. While they love to paddle for fun, they always race to win. While DragonFire aspires to become Hartford's "premier" team, with multiple boats racing at multiple levels in and outside of Hartford, for now, they are simply thrilled to be in Burlington and race on Lake Champlain.
Dream Weavers
Captain: Shannon Cunniff
The Dream Weavers team is composed of folks fanatical about fiber arts and their friends. Many of them are hooked on crocheting, knitting, felting, spinning and weaving and knew each other through Vermont organizations such as the Twist o' Wool Guild and Vermont Weavers Guild. Many of these fiberists were needling to try dragon boating and attend the festival as a way to give back to fellow Vermonters. Yarn never going to believe it, but one of first people to join the team is currently coping with stage 4 metastatic breast cancer. Others heard knit through the grapevine and cast on to honor friends and loved ones who have had cancer. Apparently, word travels fast in the fiber crowd, as friends and supporters felt they needed to join too. Starting as a loose knit bunch the Dream Weavers are now a tightly woven team. They are hoping that their Lake Champlain Dragon Boat Festival paddling debut results in a boat that neatly plies the water. Stop by their area in the athlete's village — you'll know it when you see it as these folks need to keep their hands busy to minimize skein-delous behavior. Breast cancer survivors are especially encouraged to stop by to pick out a knit-knocker.
(The) Essex Resort & Spa
Co-Captains: Mike McNeil and Bernadette Whitcomb

We are back on the water again for this year's 2023 Festival with a boatload of some new and some returning paddlers! We are giddy with excitement! Do they want to win? HECK, YEAH! WHY DO WE PADDLE…because we are a very competitive bunch.
The team is very excited to join the fun and fundraising for the Lake Champlain Dragon Boat Festival. Come see us cross the finish line FIRST on August 6th!
Aside from being a competitive group, we are happy to support the McCure Miller Respite House and Dragonheart Vermont for their support of breast cancer survivorship.
Fanny Pack – UVMMC Inpatient Rehab Center
Captain: Bonnie Aharonian
We're back this year and ready for another day of fun and friendly competition! We have some returning paddlers and some new faces! We represent the Inpatient Rehab Center at UVM Medical Center where we are dedicated to helping people return to everyday life. We proudly support Dragonheart Vermont and the McClure Miller Respite House.
Fire Breathing Lab Dragons – UVM Health Network
Captain: Lynn Bryan
Lab Medicine – we're all heart. Oh, and other organs. Also blood, urine, stool and other less common bodily fluids, that's us too.
For us, every sample has a patient behind it, and way too many of those patients have cancer in one form or another. We love how Dragonheart and the Lake Champlain Dragon Boat Festival help support breast cancer survivors through paddling and other year-round programs. Sharing the monies raised at the festival with the McClure Miller Respite House helps those in our communities fighting their battling with all cancers too.
The Fire Breathing Lab Dragons want to support both organizations with our best fundraising efforts too!
Freedom & Unity – Vermont Town & City Clerks and Treasurers
Captain: Jessica Alexander

"Freedom and Unity" is made up of Vermont Town Clerks and Treasurers, our families and friends. Vermont Clerks take an oath to support the Constitution of the State of Vermont and of the United States. We are the record keepers at the heart of our communities, serving everyone equally, justly and respectfully.
Harvard GSAS Engine 9 (Sport Team)
Captain: Samantha Joubran
We were the first dragon boat team in Boston, established 1999. We welcome paddlers of all skill levels who value hard work and good sportsmanship!

Heart of the Home – UVM Health Network – Home Health & Hospice
Co-captains: Dr. Nancy Long and Joan Newton O'Gorman
We are a nonprofit home health and hospice provider. We are mission driven and community-based, whose focus is to deliver high quality care for all those in need, regardless of their ability to pay.
Making Waves – Champlain College
Captain: Mandy Fox
We are a dynamic team of educationally focused, spirited paddlers. Champlain College has participated in this event regularly. It is an honor to be a part of this fun and very meaningful fundraiser to join in the effort to support those who previously or currently live life fully with cancer.
Mazda Five Speed Fish Stix – South Burlington Mazda
Captain: Chris Olsen
We are employees, friends, family and customers coming together for a great cause.
NEFCU Navigators – New England Federal Credit Union
Captain: Krystina Gotsch
We are a combined team from NEFCU and VSECU. We are using this as one of our first joint effort events. We are a team that looks forward to being out on the water, working together toward a common goal, that goal being the finish line. Our credit unions are in the middle of a merger, that is looking to be completed in September, so we are taking this chance to get out on the water, enjoy some sun, some fun, and to get to know our peers outside of the office. We are hoping for a beautiful sunshining day on the water, with friends, family, and the waves.
PA Phire Dragons (Sport Team)
Captain: Joan Curtin
Preop Pirates – UVM Medical Center
Captain: Heather Cota
We are a crew consisting of preoperative professionals hailing from the University of Vermont Medical Center. Most of the crew are first-timers to Dragonboat. The captain and her right hand skipper will be "braving the seas" the second time around. The atmosphere, comradery, and experience overall is amazing to be around and who doesn't enjoy being out on a warm, sunny day on the lake?! Additionally, almost all of us have had a loved one, friend, patient, or acquaintance, or themselves who have been diagnosed with cancer. Supporting and fundraising for DHVT and McClure Miller Respite house are ways to give back to the community. Therefore, supporting this fundraiser is close to our hearts.
Pull Together – First Congregational Church of Burlington
Captain: Baki Nelson
Captain Baki says: "I joined the First Congregational Church in Burlington in 2017 and summer of that year for the first time I was introduced to Dragonheart VT by Tea Knight, and she recruited me to paddle for the church team; PULL TOGETHER. I so much enjoyed the sport but much more than that I was touched by the mission of DHVT and support of BCS. My grandmother was a breast cancer survivor and so is my mother. So, I met with John Dyer and joined the family of DHVT in summer of 2017."
Our team PULL TOGETHER attended the festival in 2017 and then 2022 (which we took home a trophy and championship in division D). This year we are back to support the festival, and to have fun. Our goal is to fulfill a humanitarian duty and support a great cause, helping cancer survivors to live with hope and get the treatment they need.
Rally Against Cancer – University of Vermont
Captain: Karen Lemire
Our team is made up of UVM students, staff and faculty paddling to support Dragonheart of Vermont and the McClure Miller Respite House. UVM continues its effort to raise awareness for cancer research throughout the year with on and off campus events.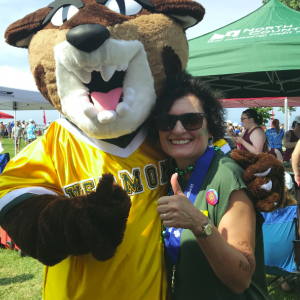 Relentless Krush (Sport Team)
Captain: Jacqueline Ahrens
Rhythm and Blues – Blue Cross and Clue Shield of Vermont
Captain: Tamara Jacobsen
Blue Cross and Blue Shield of Vermont's Rhythm and Blues team will rock (but hopefully not roll!) through the waves to victory, paddling toward a healthier Vermont! Our goal is to make the competition sing the "blues" and help find a cure for breast cancer. Come race day, we'll be paddlin' with rhythm.
SMC Dragon Slayers – Saint Michael's College
Captain: Allison Close
We are staff, faculty, students, alumni, and friends of Saint Michael's College. We are here to slay the dragon and rescue our dear princess, paddling hard and fast, but most importantly, together! We are the Knights, and we have the right, to paddle!
Snap Fitness Warriors – Snap Fitness Berlin
Captain: Jackson McCoy
The Dragon Boat Team Snap Fitness Warriors is made up of members from the community who attend our local gym, Snap Fitness Berlin. We are all dedicated, self-motivated, driven people who are so excited to be a part of this great cause! Many of us have never paddled before, but we are up for the challenge! See you all on the water!
Soaring Shamrocks
Captain: Neal Hayes
Back again for 2023, this compilation of friends, family, hockey and rugby connections, and our famous Shamrock breast cancer hockey tournament will try again to take home a trophy! The "soaring" part of our name is a tribute to ovarian cancer survivor Gabrielle who paddled on our original "Soaring" team. Our team is completely funded by the fundraising done by each of the individual paddlers on our team. We look forward to seeing you on the water!
Tachy for Ta-Ta's
Captain: Amanda Trombley
Tachy for Ta-Ta's is a team composed of healthcare workers and friends who are building strong foundation of teamwork and a better community by coming together to raise money for the Dragonheart festival. We have composed our team from 2 different departments within UVMMC and some of our dear friends. This is our second year doing the Dragonheart festival and we look forward to helping raise money for who are in need of the support the most. Each of us have been affected by cancer in different ways. We know every little thing we can do in the community will bring happiness to our team and raise money to help to this amazing cause.
UB Stay Local, Go Fast – Union Bank
Captain: Stacie Griffiths
Union Bank is more than just a bank. It's a partner in your community's success. Since 1891, we have been serving northern Vermont and northern New Hampshire with a full range of banking services, from residential lending to small business support. We are proud of our achievements, such as being an SBA Preferred Lender, a USDA Vermont Lender of the Year, and a VHFA Top Performer for six years in a row. We are also committed to giving back to our community through initiatives like the Lake Champlain Dragon Boat Festival, which we are joining for the third time this year. At Union Bank, we make banking easy and convenient for you.
UVMMC Make Waves for Wellness – UVMMC
Captain: Greg Lamoy and Cristel Giglio
UVMMC Make Waves for Wellness" has been the UVM Medical Center Employee Wellness team since 2018 and it is comprised of our employees and their families. Each year our team has become more and more dynamic and committed to the mission of Dragonheart Vermont. We've weathered the pandemic with you and have emerged stronger than ever. Employee Wellness encourages physical activity, comradery and a sense of community. We can't wait to see everyone out on the water on August 6th- GO TEAM.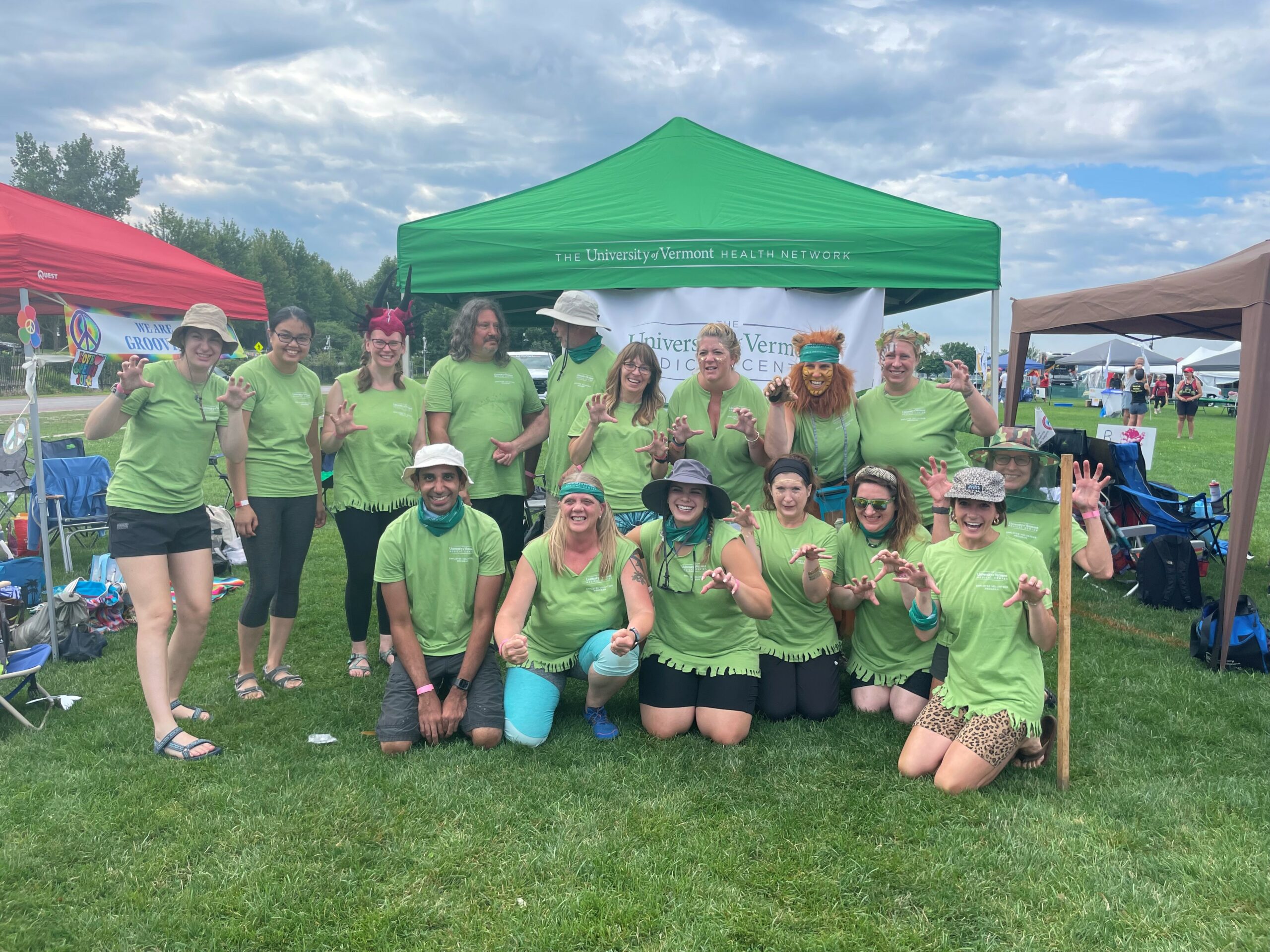 Vermont Paddle Fitness
Captain: Brett Haug
Vermont Paddles Fitness is a fitness center focusing on improving the health and wellness of participants from all paddle sports. We look forward to getting out on the water and vying for the Champ Cup this year in support of the McClure Miller Respite House.
Vermont Ribbon Rowers
Captain: Jen Denyou
We are the Vermont Ribbon Rowers! We wear the Lavender Ribbon to bring awareness and support to all the types of cancer out there!! We wear the Pink Ribbon to honor and support Breast Cancer Awareness across the globe!