Put your company, organization, or team name and logo on a colorful festival banner to be seen by thousands of festival participants and spectators. It's a prominent, yet cost-effective, way to add your presence at the festival! Companies find banners an easy way to support this community event and get valuable brand recognition. Teams and organizations can benefit by having their names emblazoned on a banner to show support, pride, and spirit.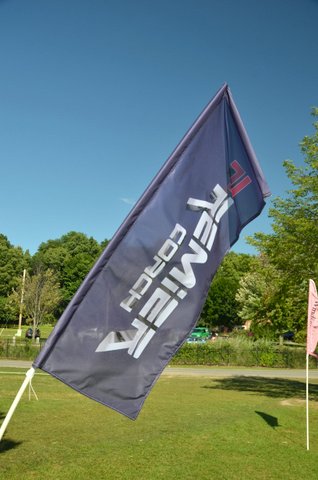 All banners measure 68" long by 20" wide and read on one side only. Banner costs are:
$450 for new banner sponsors, to include both on-location and digital banners,
$250 for new banner sponsors that include only digital presence, or
$250 for returning banner sponsors who already have a physical banner to be displayed on-location.
The deadline for ordering new banners is generally early July each year
New banners are printed on white fabric by default. Your banner can be printed on a colored fabric, you just need to specify a PMS color when ordering.
Complete the order form below, attach your logo, and make your online payment—and you're done! We will receive your form and follow up with you to confirm receipt and let you know if we need any additional information from you.
When you complete the form, please be prepared to upload your logo. We need vector art or high resolution images (at least 120dpi at full size). Web images will not work for printing. We generally recommend .ai, .eps, or high resolution .jpeg or .pdf files. Please review our banner producer's guidelines for artwork submissions here.