2023 Race Results
With perfect summer weather, the race times on our 200m course were blistering fast!!! The DHVT Power Dragons (one of our sport division crews) flew down the course in a record setting 48.02 seconds! Wowza!
Check out all the results divisional results below or download the full race results! Note that Community teams in Divisions A – D raced with 16 paddlers, while Sport Division teams had 20 paddlers in their boats.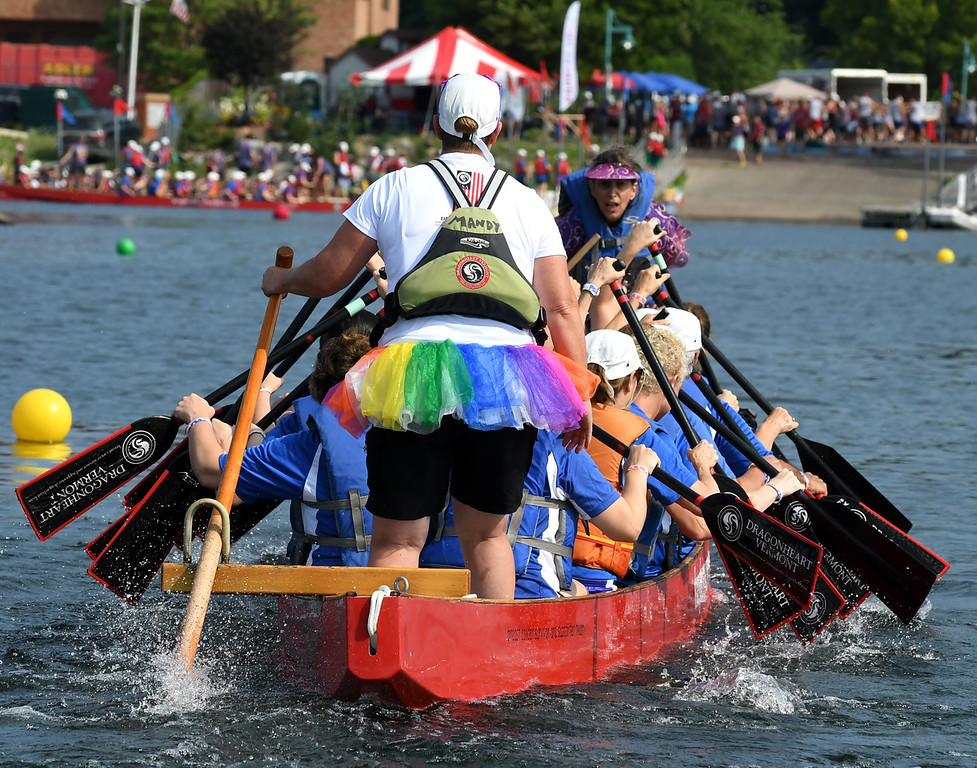 2023 Lake Champlain Dragon Boat Festival – Divisional Winners

Gold Medal
Time

Silver Medal

Time
Division A
CrossFit Burlington
00:49.45
Vermont Paddle Fitness
00:50.92

Division B

Making Waves
00:58.33
Tachy for Ta-Ta's
00:59.26
Division C
Rhythm and Blues
01:03.67
Preop Pirates
01:03.93
Division D
Cancer Patient Support Foundation Hope Heroes
01:03.87
BT-Hetis
01:05.87
Mixed Sport Division
DHVT Power Dragons
00:48.02
DragonFire
00:56.66
Women's Sport Division
DVHT Open Water
00:52.42
Relentless Krush
00:53.89
Sisters at Heart Final
Dragonheart Rainbow Sisters
00:56.56
Dragonheart Sunshine Sisters
00:56.56
The Splash for Cash Dash: The celebration of our top fundraising teams:
Our top three fundraising teams as of the evening August 5th were: 1. Dream Weavers ($10,615), 2. Vermont Ribbon Rowers ($10,428), and 3. Pull Together ($7,125).
After the Flower Ceremony finished, they loaded up the boats for a "celebratory paddle" around the cove to the applause of our spectators, participants and members. .
These three teams have now raised over $30,000 and the top position has swapped back and forth several times. THANK YOU TEAMS!
50/50 Raffle Results
Congratulations to Pat McKenna, paddler for Community Bank A Team Paddlers, winner of the LCDBF 50/50 Raffle!
Pat won a cool $555.50 and donated a sizable portion of that back to the Festival! What a generous winner–thanks, Pat!
Pick-Your-Prize Raffle Results
With 67 great prizes, it's a long list! Please click on the button below to see if you were a winner!
202 Spirit Award Winners
Everyone brought their fun and creative spirits to the Festival along with their athleticism and racing prowess. Here are the standouts!
Best Team Song/Cheer
Fanny Pack
Heart of the Home
Best Team Name
Community Bank Hakuna MaTaTas
Banchors Aweigh!
Best Team Tent Site
Preop Pirates
Dream Weavers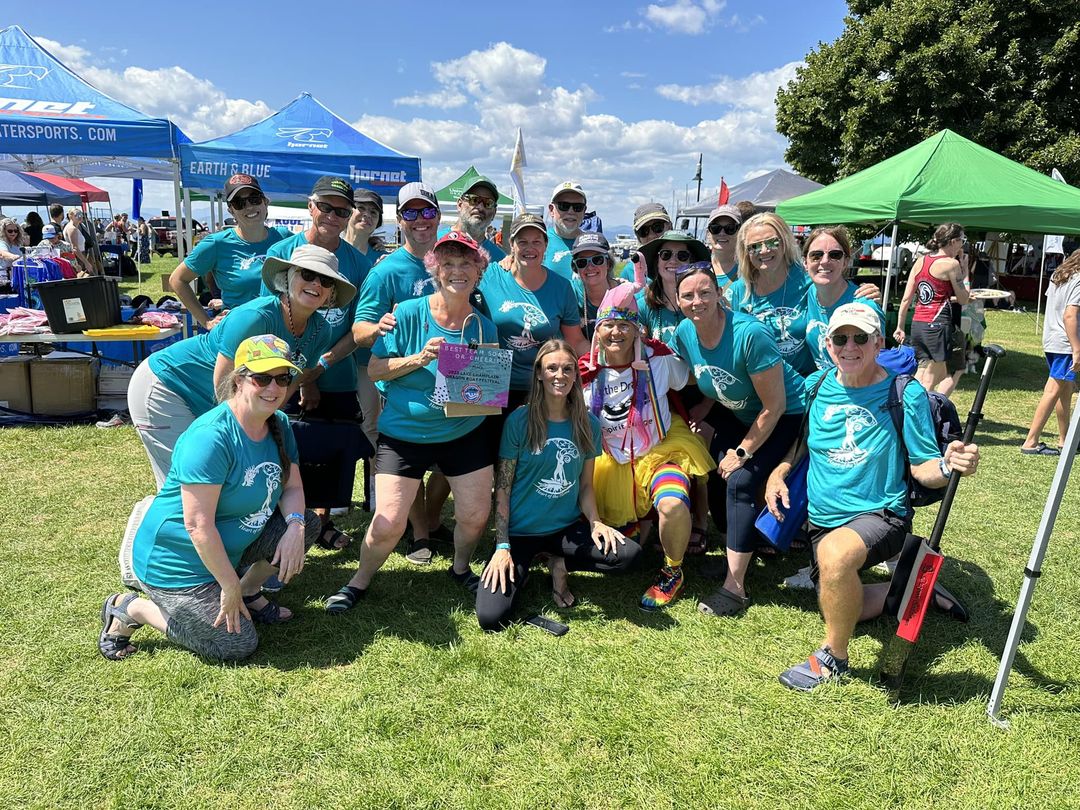 Best Team Shirt/Costume
Tachy For Ta-Tas
Cancer Patient Support Foundation Hope Heroes
Best Drummer Costume
Rally Against Cancer
Collins Aerospace Boats of Glory
MEDIA MOGUL AWARD
Beth Simon – DHVT Sisters and Soul Sisters
Kally K. Smith – Fire Breathing Lab Dragons