Stay tuned for the 2021 schedule coming soon!
OUR 2020 VIRTUAL OFFERINGS CAN BE VIEWED BELOW
Release date: August 1, 2020
WELCOME!
Greetings from Dragonheart Vermont's Executive Director, Nina Atkinson, and the Sisters at Heart Committee, Cathy Buck, Linda Potvin, Pat King and Mary Koen. (2:33 minutes)
Community Bank performs the seasons' Eye Dotting Ceremony. (0:44 minutes)
John Dyer welcomes all with a walk down memory lane. (7:43 minutes)
Today we CELEBRATE around the world!
We have 375 registrants
representing 31 teams
from 3 continents,
4 countries,
14 U.S. states,
5 Canadian provinces,
and 3 autonomous cities (Washington, DC, Buenos Aires, and Christchurch)
Please take a moment…
We invite you to join us in honoring a very special dragon boat icon. This year we lost a beloved colleague. Please view this special video honoring Peter Lew, a paddler, coach and legend in the dragon boat community. Peter is a key figure in New England dragon boating; founder of Wellness Warriors, organizer of the Boston Dragon Boat Festival and Dragonheart Vermont's long time supporter and friend. Peter was instrumental in helping Dragonheart Vermont by loaning us our very first boats on Lake Champlain back in 2005. Thank you, John Lian, for this beautiful, 6 minute tribute: https://youtu.be/J8us7y-TCS4
ATTEND VIRTUAL DRAGON BOAT & WELLNESS SESSIONS:
"Paddling Techniques and COVID Paddling Accommodations"
Renowned dragon boat coach and paddling expert, Matt Robert, and his team of dragon boat coaches of 22 Dragons will demonstrate and dissect each stage of the dragon boat stroke from the three sections of the boat. Depending where you sit, you can maximize your power and efficiency by following their advice. Each coach will additionally address how to adapt each phase of the stroke with just 5 paddlers in the boat, the recommended seating configuration during this phase of the pandemic. Please access this 20 minute session here: https://youtu.be/6NO-JFRQEx0
"COVID and Your Dragon Boat Crew… a Challenge and Opportunity"
Distinguished dragon boat coach and paddle partner, Jim Farintosh, talks about the unique opportunities we face with today's environment. Jim adds, "Please note a bit of a correction and disclaimer regarding the "holding your breath test" in my session. The original length of time mentioned in an earlier reference that I read was 20 seconds, not 60 seconds. I have just made it my personal goal to extend it to 60 seconds. I have done this for many years (starting as a teenager), so it is just a bit of a focus exercise for me. Please be careful to adjust the time for your ability if you try it. Perhaps start at 20 seconds. I am not sure that there is any proven value in considering it as a "check" for COVID, (it was just something I read), so please ignore that possibility. A proper test is the only way to be sure."
Please access Jim's 30 minute session here: https://youtu.be/Lx7p6888dUI
"RPT – Relentless Positive Thinking: Training your Mind to bring Focus, Energy and Power to each Stroke" (31 minutes)
Legendary coach and Dragonheart Vermont co-founder, John Dyer, inspires and guides you with RPT, a winning mental technique for champions in every arena. https://youtu.be/q0LZkT1NXTY
"Let Food Be Thy Medicine: Practical ways to up your nutrition game"
Hippocrates had it right all those years ago: "Let food be thy medicine and let medicine be thy food." R. Leah Pryor, Executive Chef of the UVM Medical Center, and Kim Dittus, MD PhD, Medical Oncologist at the UVM Cancer Center, team up to talk about improving your diet, with an emphasis on veggies and other plant foods.
Download Meal Plans and Healthy Recipes here!
Nutrition is an excellent way for cancer survivors and those in treatment to take action to contribute to better health. It is also an important factor in cancer prevention and survivorship. Participants will be able to submit questions and will leave with a list of recipes, meal planning guidance and important information about nutrition as a key to better health. Pre-recorded for the Women's Health Care Conference on July 24, 2020. (59:03 minutes) https://youtu.be/xPHKBlY5QI4
Special Wellness Session for BCS Dragon Boat Paddlers with Brett Haug, Head Coach and personal fitness trainer for Dragonheart Vermont at Vermont Paddle Fitness

This 60 minute session will focus on building and maintaining strength and wellness for BCS survivors, starting with joint stability and mobility. Utilizing a combination of talks and demos you can learn how to manage a healthy lifestyle and incorporate normal household items into a bonafide fitness routine. https://youtu.be/CdCAfeg04dM
Special Session on Lymphedema (11:30 minutes)
Julie Rossignol is an Occupational Therapist, Certified Lymphedema Therapist, Rehabilitation Oncology Specialist, Myofacial Release Certified and a member of the Lymphology Association of North America. She and her sister, Sophie, a radiation oncology nurse, will demonstrate how to PUMP *clap* YOU UP and talk about lymphedema prevention.
Download the workouts and exercises here!
PARTICIPATE IN A VIRTUAL ACTIVITY:
POGA (60-minute Vinyasa yoga with your paddle)
Limber up with a special twist to yoga with Justine Zolotas, fitness instructor and dragon boat coach. POGA incorporates traditional yoga poses using your paddle (or long handle/pole) as a prop, targeting muscles used in dragon boating. HELPFUL HINT: set the top of your mat facing your monitor (perpendicular to Justine's mat) and enjoy a 5+ minute-long savasana, with a special namaste afterwards! https://youtu.be/tGF9ReJ19No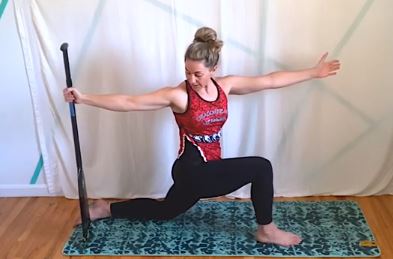 World wide release of SAH 2020 Flower Ceremony
Linda Dyer, Dragonheart Vermont co-founder and coach for the BCS team, "Sisters", delivers an inspirational message as you view a montage of all the flower toss submissions. This year's flower song, "Joy Be With You All" is masterfully sung by the Solaris Vocal Ensemble. This moving compilation was lovingly compiled by our own Karin Kasupski. (23 minutes)
MEET MEMBERS FROM YOUR HOST, DRAGONHEART VERMONT
View Our Stories:
The "Why I Paddle"Series
Nikki https://youtu.be/bVHwyx1pbME
Meet Nikki, diagnosed in 2011, and a Dragonheart Member since 2013. Dragonheart Vermont has given her support, friendships, community involvement, physical fitness, travel opportunities, and peace of mind. Who could ask for more?
Nina https://youtu.be/SXFogETHRok
Dragonheart Vermont Executive Director, Nina Atkinson, tells us how Dragonheart Vermont completed her journey to her new normal and how she fulfilled her unknown need for emotional support and sisterhood, ultimately allowing her to discover how she could give back in many ways.

Irene https://youtu.be/pcMFfpFpaaI
Dragonheart Vermont Board of Director and Member at Large, Irene, and her husband Steve discuss her cancer journey and the silver linings that changed their lives for the good.
Julie https://youtu.be/f-F0eFWTuic
UVM Larner College of Medicine Genomics Analyst, Julie, tells us how DHVT helped her accept her diagnosis and move forward from it. After hesitating initially to commit to such a group, she has become hooked by the sport and loves and appreciates the DHVT community spirit and strength.
Cathy https://youtu.be/Vu0pzKEZwzA
SAH Chairperson, Cathy Buck was also a supporter paddler for 2 years before her breast cancer diagnosis. View her story of how paddling with Dragonheart Vermont complemented the love and support from her family by restoring her fitness and confidence.

Fitness, Teamwork and Breast Cancer
Karin https://youtu.be/j3powYYzq00
DHVT BCS "Sister", Karin started as a supporter paddler, but switched to the BCS team after being diagnosed with breast cancer. She paddles because she likes being a part of a team, likes the camaraderie, likes being on the water and especially likes competing. She likes being part of an organization that gives back to the community while also supporting each other. Plus she likes to travel! And with this sport she gets all of that!
CLOSING BITS
On behalf of all of us here in Vermont, thank you for joining us to celebrate Sisters at Heart 2020. When we set out to plan this virtual event we had no idea what kind of response, if any, we would receive. We are overwhelmed by the love, the beauty and the sisterhood from around the globe.
Paddles Up, Friends! See you in 2021!
Please click to view and download your choice of participatory certificates!
We are so very grateful for each and every contributor and support person, but the SAH Committee wants to give a special shout-out to Nina Atkinson. Without her skills and expertise, our first ever Sisters at Heart Virtual Celebration might not be reaching all of you today. Thank you, Nina, we love you!!!
Thank you to our 2020 Sponsors and Contributors
<