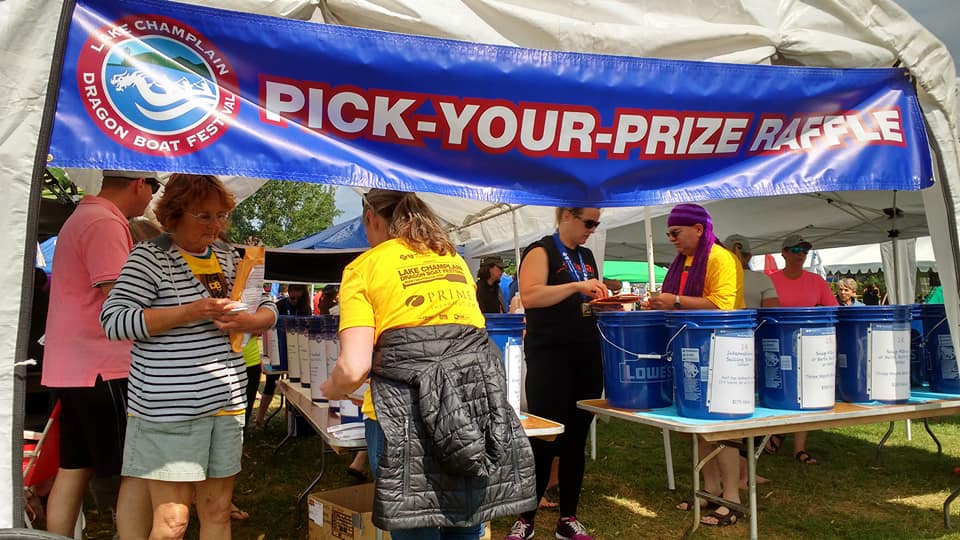 What follows is the information for our 2023 Pick Your Prize fundraiser. Stay tuned for details about our 2024 event. Contact us at pyp@dragonheartvermont.org if you'd like to be involved in 2024.
Pick Your Prize is Dragonheart Vermont's fundraiser within a fundraiser! The Lake Champlain Dragon Boat Festival's funnest raffle offers $1 tickets to "Pick Your Prize", guaranteeing that all winners receive the prizes they want! Buy your tickets now!
HOW IT WORKS: (1) Buy (2) Choose (3) Win
BUY: NEVER UNDERESTIMATE THE POWER OF ONE DOLLAR!
All tickets are $1. Your donation supports Dragonheart Vermont programs and this year's Lake Champlain Dragon Boat Festival's pledge recipient (our Pledge Partner), The McClure Miller Respite House. Advance Purchase Ticket sales ended at Noon on Friday, August 4th. Please join us that the waterfront on Sunday to buy your tickets at the Pick Your Prize booth.
CHOOSE: WHAT'S ON YOUR BUCKET LIST? CHECK OUT OURS!
Prizes are gift certificates from local, regional and national merchants and "bucket bundled" so that each $1 ticket entitles you a chance to win your choice of buckets valued at $100 or over!
On Sunday, August 6, 2023 (Festival Day), stop by the Pick-Your Prize tent to pick up your pre-purchased, personalized paper tickets, which you can then drop into buckets of prizes. See our FAQs for your options if you can't join us the waterfront that day.
WIN: EVERYONE IS A WINNER! Choosing your prizes couldn't be simpler! Drop your tickets into the buckets of your choice on Sunday, August 6 (Festival Day) before 3pm. We all win by supporting cancer survivors through Dragonheart Vermont. Bucket winners will be notified by Monday, August 7.