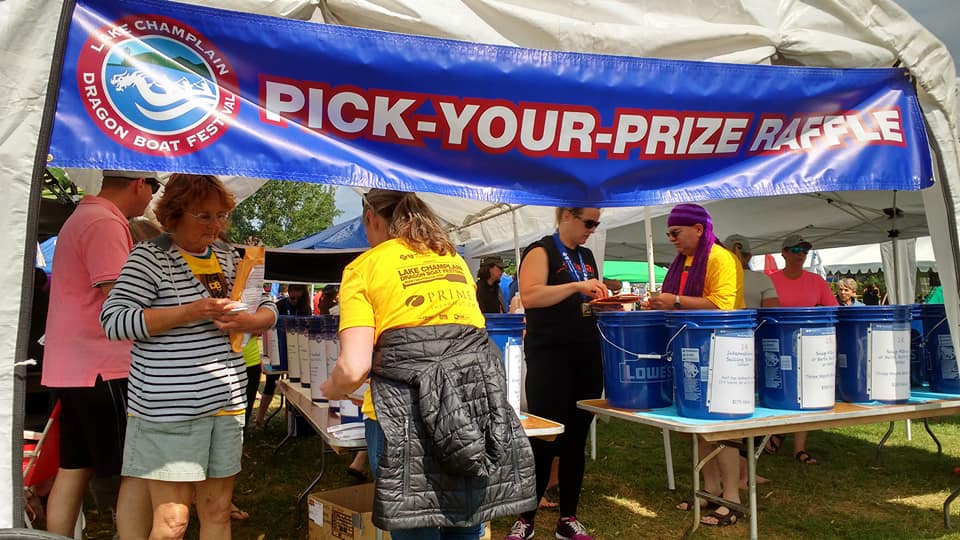 Our Local Businesses have generously donated over 150 gift certificates for the Pick Your Prize fundraiser!!
Congratulations to the lucky winners of the 2022 Pick-Your-Prize contest! We will be contacting you soon to make arrangements to get your prize to you.
A huge thank you to our local businesses for their generous donations in support of the Lake Champlain Dragon Boat Festival AND to everyone who took a chance to win some fabulous prizes. We could not do it without you!
If you are interested in donating a gift certificate for our 2023 Pick Your Prize fundraiser, contact us!
Pick Your Prize Winners!!
And the Winner is...
Prize #
Business
Prize
Total Value
colAttrHide
Zhonghui Zhou
81
The Alchemist ($150 Value) (Stowe)

$150 Gift Certificate

Website
$150
Shopping
Loredana Dame
78
Grazers/Agave ($50 Value) (Williston, Winooski, St. Albans), Morning Light Bakery ($20 Value) (Winooski), Pho Son ($20 Value) (Burlington)


$50 Gift Card redeemable at Grazers or Agave Taco and Tequila Casa - Grazers features creative casual fare including grass-fed burgers from Vermont farms, specialty hand-cut fries, delicious salads, and lots of vegetarian choices too. Agave Taco and Tequila Casa is a locally-owned restaurant specializing in Mexican-inspired food and drinks.

Website



$20 Gift Certificate - We are a local bakery cafe in Winooski that serves Hong Kong style pastries, cakes, coffee, bubble tea, etc.

Website



$20 Gift Card - Vietnamese Street Food, right off Church St. Pho, (pronounced fuh) is the Vietnamese national dish; rich and aromatic beef broth & delicious rice noodle served with a side plate of fresh herbs to add as you please.

Website
$90
Dining
Kathleen Magnus
79
Athleta ($50 Value) (Burlington), Jennie Nail Spa ($20 Value) (Burlington), Morning Light Bakery ($20 Value) (Winooski)


$50 Gift Card - For use in store or online. Expires 1/31/2023.

Website



$20 Gift Card - Luxurious nail, eyelash, and facial waxing care in a glamourous salon

Website



$20 Gift Certificate - We are a local bakery cafe in Winooski that serves Hong Kong style pastries, cakes, coffee, bubble tea, etc.

Website
$90
Dining, Self Care, Shopping
Myla Lai-Goldman
80
ArtHound Gallery ($25 Value) (Essex), Morning Light Bakery ($20 Value) (Winooski), Uncommon Coffee ($50 Value) (Essex)


$25 Gift Card - With over 300 Vermont Artists and curated VT Products to choose from, there is something at the ArtHound for everyone.

Website



$20 Gift Certificate - We are a local bakery cafe in Winooski that serves Hong Kong style pastries, cakes, coffee, bubble tea, etc.

Website



$50 Gift Card - Our in-house roastery produces the freshest coffee possible. From the far stretches of the world to your kitchen table, we pride ourselves on quality and integrity in every step of the process. We look forward to meeting you!

Website
$95
Dining, Shopping
Jennifer Perlee
77
The Essex Resort & Spa ($450 Value) (Essex)

A couples massage plus $100 credit towards dinner in the Junction restaurant.

Website
$450
Dining, Self Care
Kathleen Bradley
74
Healthy Living Market & Cafe ($50 Value) (Any location), Mimmo's Pizzeria & Restaurant ($20 Value) (St. Albans, Essex), The Gryphon ($40 Value) (Burlington)


$50 Gift Card

Website




$20 Gift Card - At Mimmo's, we're serious about fresh, flavorful food matched with warm, responsive, hospitality, always going the extra mile to make sure our customers are happy and have a great dining experience

Website



$40 Gift Card - Life's too short for boring food, and nothing about The Gryphon is boring

Website
$110
Dining, Shopping
Christin McBride
75
Alpine Shop ($25 Value) (So Burlington), El Gato Cantina ($25 Value) (Burlington, Essex), The Farmhouse Group ($50 Value) (Burlington, So Burlington)


$25 Gift Voucher

Website



$25 Gift Card - For traditional Mexican food and drinks in a traditional Mexican setting, visit El Gato Cantina in Burlington and Essex for the authentic cuisine you crave

Website



$50 Gift Certificate - Valid at any of these locations: Guild Tavern, Pascolo Risorante, El Cortijo, Farmhouse Tap & Grill

Website
$100
Dining, Shopping
Brenda Howley
66
Pizza 44 ($40 Value) (Burlington), The Gryphon ($40 Value) (Burlington), Vermont Meat & Seafood Market ($25 Value) (Williston)


$40 Gift Card - Come in and enjoy a wood fired pizza featuring local ingredients, along with some of Vermont's finest craft beers.

Website



$40 Gift Card - Life's too short for boring food, and nothing about The Gryphon is boring.

Website




$25 Gift Card - Vermont Meat & Seafood Market is a retailer of fine meats, wines, and seafood focusing on quality, local products, as well as premium national products, in a friendly atmosphere in the Williston community

Website
$105
Dining, Shopping
Patricia King
67
Butter Bar & Kitchen ($30 Value) (Burlington), Mimmo's Pizzeria & Restaurant ($20 Value) (St. Albans, Essex), Morse Farms Maple Sugarworks ($50 Value) (Montpelier)


$30 Gift Card

Website



$20 Gift Card - At Mimmo's, we're serious about fresh, flavorful food matched with warm, responsive, hospitality, always going the extra mile to make sure our customers are happy and have a great dining experience.

Website


$50 Gift Certificate

Website
$100
Dining, Shopping
Casey Corcoran
68
Folino's Wood Fired Pizza ($50 Value) (Burlington, Shelburne, Williston), Turner Toys ($25 Value) (Williston), Wally's Place Bagel & Deli ($25 Value) (So Hero)


$50 Gift Card

Website



$25 Gift Card

Website



$25 Gift Card - We feature Bagel & Sandwich Specials, homemade breads and baked goods that change on a daily basis

Website
$100
Dining, Shopping
Rebecca Campbell
69
Blossom Nail Salon VT ($20 Value) (So Burlington), La Boca Wood Fired Pizza ($40 Value) (Burlington), The Gryphon ($40 Value) (Burlington)


$20 Gift Certificate

Website




$40 Gift Certificate

Website



$40 Gift Card - Life's too short for boring food, and nothing about The Gryphon is boring

Website
$100
Dining, Self Care
Sarah Wright
70
Mimmo's Pizzeria & Restaurant ($20 Value) (St. Albans, Essex), The Gryphon ($40 Value) (Burlington), Thirty Odd ($50 Value) (Burlington)


$20 Gift Card - At Mimmo's, we're serious about fresh, flavorful food matched with warm, responsive, hospitality, always going the extra mile to make sure our customers are happy and have a great dining experience

Website



$40 Gift Card - Life's too short for boring food, and nothing about The Gryphon is boring

Website




$50 Gift Card - A gift shop in Burlington?s South End Arts District, selling the best handmade, locally loved goods. Follow us on Instgram @thirtyoddvt

Website
$110
Dining, Shopping
Douglas Viehmann
71
Mimmo's Pizzeria & Restaurant ($20 Value) (St. Albans, Essex), Pizza 44 ($40 Value) (Burlington), The Gryphon ($40 Value) (Burlington)


$20 Gift Card - At Mimmo's, we're serious about fresh, flavorful food matched with warm, responsive, hospitality, always going the extra mile to make sure our customers are happy and have a great dining experience

Website



$40 Gift Card - Come in and enjoy a wood fired pizza featuring local ingredients, along with some of Vermont's finest craft beers.

Website



$40 Gift Card - Life's too short for boring food, and nothing about The Gryphon is boring

Website
$100
Dining
Mary beth Mooney
72
Alpine Shop ($25 Value) (So Burlington), Healthy Living Market & Cafe ($50 Value) (Any location), Three Brothers Pizza ($25 Value) (Colchester)


$25 Gift Voucher

Website



$50 Gift Card

Website




$25 Gift Certificate - Three Brothers Pizza & Grill is a family-owned and run restaurant located in Colchester with a wide-ranging, delicious menu inspired by all three brothers and their close friends.

Website
$100
Dining, Shopping
Mary beth Mooney
73
El Gato Cantina ($25 Value) (Burlington, Essex), The Bagel Place ($25 Value) (So Burlington), VT Pub and Brewery ($50 Value) (Burlington)


$25 Gift Card - For traditional Mexican food and drinks in a traditional Mexican setting, visit El Gato Cantina in Burlington and Essex for the authentic cuisine you crave

Website



$25 Gift Card

Website




$50 Gift Card

Website
$100
Dining
Loredana Dame
65
Blue Sunflower Aromas ($30 Value) (Online), Brighter Day Blooms ($50 Value) (Franklin), Wally's Place Bagel & Deli ($25 Value) (So Hero)


$30 Gift Certificate - Hand-poured clean-burning coconut soy candles shipped to your door. Eco-conscious and natural, we focus on candle scents that are inspired by nature, relax the senses, and take you back to a nostalgic time of easy living.

Website



1 Large or 2 Medium Floral Arrangements






$25 Gift Card - We feature Bagel & Sandwich Specials, homemade breads and baked goods that change on a daily basis

Website
$105
Dining, Shopping
Andrea Gray
63
Alpine Shop ($25 Value) (So Burlington), Pet Food Warehouse ($50 Value) (So Burlington, Shelburne), Texas Roadhouse ($30 Value) (Any location)


$25 Gift Voucher

Website



$50 Gift Card

Website



Dinner For Two

Website
$105
Dining, Pet Care, Shopping
John Collins
64
Essex Discount Beverage ($50 Value) (Essex), Sweet Scoops ($10 Value) (Barton, Derby, Essex), The Farmhouse Group ($50 Value) (Burlington, So Burlington)


$50 Gift Card - Redeemable for fuel or merchandise, in-store or at the pump

Website



$10 Gift Card - Redeemable at all 3 locations - Barton, Derby, & Essex

Website




$50 Gift Certificate - Valid at any of these locations: Guild Tavern, Pascolo Risorante, El Cortijo, Farmhouse Tap & Grill

Website
$110
Dining, Shopping
Denise Francis
60
Fitness Options ($75 Value) (So Burlington), Fleet Feet ($25 Value) (Essex Jct), Sweet Scoops ($10 Value) (Barton, Derby, Essex)


One hour massage

Website



$25 Gift Card - Redeemable at Fleet Feet stores in the US or fleetfeet.com

Website




$10 Gift Card - Redeemable at all 3 locations - Barton, Derby, & Essex

Website
$110
Dining, Self Care, Shopping
Patricia King
61
Bertha Church Intimate Apparel ($50 Value) (Burlington), Peace & Justice Store ($25 Value) (Burlington), Salon Capri ($50 Value) (Burlington)


$50 Gift Certificate

Website




$25 Gift Certificate

Website




$50 Gift Certificate

Website
$125
Self Care, Shopping
Beverly Keating
62
Black Flannel Brewing Co. ($25 Value) (Essex), McGillicuddy's Irish Pub ($25 Value) (Barre, Colchester, Essex Jct, Waterbury, Williston), The Farmhouse Group ($50 Value) (Burlington, So Burlington)


$25 Gift Card - Brewing - Distilling - Culinary.

Website



$25 Gift Card - Thirty-six taps of Vermont brews & imports and pub standards such as Buffalo chicken sandwiches and turkey burgers satisfy all appetites

Website



$50 Gift Certificate - Valid at any of these locations: Guild Tavern, Pascolo Risorante, El Cortijo, Farmhouse Tap & Grill

Website
$100
Dining
Suzanne Dirmaier
52
Park Row Cafe ($45 Value) (Waterbury ), Stowe Street Emporium ($50 Value) (Waterbury ), Yarn ($20 Value) (Waterbury )


$45 Gift Certificate

Website



$50 Gift Card

Website



$20 Gift Card

Website
$115
Dining, Shopping
Patty F Delaney
53
Proud Flower Florist and Gifts ($30 Value) (Waterbury ), Sunflower Salon & Boutique ($25 Value) (Waterbury ), The Reservoir Restaurant & Taproom ($50 Value) (Waterbury )


$30 Gift Card

Website




$25 Gift Certificate

Website



$50 Gift Card

Website
$105
Dining, Shopping
Mary Koen
54
PK Coffee ($40 Value) (Waterbury ), Rhonda's Kitchen at Hannon Home Center ($40 Value) (Waterbury ), The Tiny Acorn ($25 Value) (Waterbury )


$20 Gift Certificate & a $20 Certificate to use toward a bag of coffee

Website



$40 Gift Certificate - Featuring Vermont-made products

Website



$25 Gift Certificate - With six rooms full of unique games, toys, books, trinkets, crafts, clothes, jewelry, and so much more, you'll find yourself on a new journey exploring the shop every single time you stop in.

Website
$105
Shopping
Kimberly McCrae
55
K.C.'s Bagels ($25 Value) (Waterbury ), The Old Stagecoach Inn ($40 Value) (Waterbury ), The Reservoir Restaurant & Taproom ($50 Value) (Waterbury )


$25 Gift Card

Website



Breakfast For Two

Website



$50 Gift Card

Website
$115
Dining
Christine Turner
56
Caledonia Spirits ($35 Value) (Montpelier), Mimmo's Pizzeria & Restaurant ($20 Value) (St. Albans, Essex), Morse Farms Maple Sugarworks ($50 Value) (Montpelier)


$35 Gift Card - The Caledonia Spirits gift card may be used online at www.caledoniaspirits.com or in person at our retail shop and cocktail bar at 116 Gin Lane, Montpelier VT 05602

Website



$20 Gift Card - At Mimmo's, we're serious about fresh, flavorful food matched with warm, responsive, hospitality, always going the extra mile to make sure our customers are happy and have a great dining experience

Website


$50 Gift Certificate

Website
$105
Dining, Shopping
LEE KROHN
57
Lenny's Shoe & Apparel ($50 Value) (Barre, Williston), Pho Dang Vietnamese Restaurant ($25 Value) (Winooski), Trail To Gold ($30 Value) (Burlington)


$50 Gift Card

Website



$25 Gift Certificate

Website




New, hard cover, signed book (Trail to Gold) by VT Olympian Sue Long Wemyss. Note: Winner must be able to pick up the prize locally.
$105
Dining, Entertainment, Shopping
Casey Corcoran
59
Blossom Nail Salon VT ($20 Value) (So Burlington), El Gato Cantina ($25 Value) (Burlington, Essex), Fitness Options ($65 Value) (So Burlington)


$20 Gift Certificate

Website




$25 Gift Card - For traditional Mexican food and drinks in a traditional Mexican setting, visit El Gato Cantina in Burlington and Essex for the authentic cuisine you crave

Website



One hour with a Personal Trainer

Website
$110
Dining, Self Care
Denise Mercadante
44
Blossom Nail Salon VT ($20 Value) (So Burlington), Kathy McDonald ($60 Value) (Williston), Three Brothers Pizza ($25 Value) (Colchester)


$20 Gift Certificate

Website




One hour training session with personal trainer Kathy McDonald

Website




$25 Gift Certificate - Three Brothers Pizza & Grill is a family-owned and run restaurant located in Colchester with a wide-ranging, delicious menu inspired by all three brothers and their close friends.

Website
$105
Dining, Self Care
Meaghan Goodheart
45
Blossom Nail Salon VT ($20 Value) (So Burlington), Kathy McDonald ($60 Value) (Williston), Phoenix Books ($25 Value) (Essex, Burlington, Rutland)


$20 Gift Certificates

Website




One hour training session with personal trainer Kathy McDonald

Website




$25 Gift Card to be used at any location - Essex, Burlington, Rutland. Find us on Facebook and Instagram: @phoenixbooksvt.

Website
$105
Leisure, Self Care
Linda Potvin
46
Hannaford ($25 Value) (Any location), Pizza 44 ($40 Value) (Burlington), Morse Farms Maple Sugarworks ($50 Value) (Montpelier)


$25 Gift Card - Redeemable at any Hannaford supermarket

Website



$40 Gift Card - Come in and enjoy a wood fired pizza featuring local ingredients, along with some of Vermont's finest craft beers

Website


$50 Gift Certificate

Website
$115
Dining, Shopping
William Giglio
47
Pizza 44 ($40 Value) (Burlington), Price Chopper Store #228 ($25 Value) (Any location), Morse Farms Maple Sugarworks ($50 Value) (Montpelier)


$40 Gift Card - Come in and enjoy a wood fired pizza featuring local ingredients, along with some of Vermont's finest craft beers

Website



$25 Gift Card - To use at any Price Chopper or Market32 location

Website



$50 Gift Certificate

Website
$115
Dining, Shopping
Frances Thomas
48
Black Flannel Brewing Co. ($25 Value) (Essex), Martone's Market & Cafe ($25 Value) (Essex Jct), The Farmhouse Group ($50 Value) (Burlington, So Burlington)


$25 Gift Card - Brewing - Distilling - Culinary

Website



$25 Gift Card - Martone?s Market is a locally owned deli. Established in July 1992, the market strives to bring both quality and value to it?s customers.

Website



$50 Gift Certificate - Valid at any of these locations: Guild Tavern, Pascolo Risorante, El Cortijo, Farmhouse Tap & Grill

Website
$100
Dining
Christine Turner
50
Bob's Auto Service ($40 Value) (Essex), Cody's Irish Pub & Grille ($25 Value) (Essex), Pizza 44 ($40 Value) (Burlington)


$40 Gift Certificate - Redeem for 1 set of wiper blades up to $40 value





$25 Gift Certificate - Good Drink, Good Grille, Good Friends!

Website



$40 Gift Card - Come in and enjoy a wood fired pizza featuring local ingredients, along with some of Vermont's finest craft beers

Website
$105
Automotive, Dining
Cathy Buck
51
K.C.'s Bagels ($25 Value) (Waterbury ), Tabbatha Henry Designs ($50 Value) (Waterbury ), The Wine Vault ($25 Value) (Waterbury )


$25 Gift Card

Website



$50 Gift Card - Redeem in store or online for handcrafted contemporary porcelain

Website



$25 Gift Certificate

Website
$100
Dining, Shopping
Gayle Wilcox
37
Arrowhead Golf Course ($46 Value) (Milton), Barnyard Wood Crafted Pizza ($50 Value) (Essex Jct), Sweet Scoops ($10 Value) (Barton, Derby, Essex)


18 Holes of Golf with Cart for One.

Website



$50 Gift Card

Website



$10 Gift Card - Redeemable at all 3 locations - Barton, Derby, & Essex

Website
$106
Dining, Leisure
Laurie OHanlon
38
Alpine Shop ($25 Value) (So Burlington), Arrowhead Golf Course ($30 Value) (Milton), Penny Cluse Cafe ($50 Value) (Burlington)


$25 Gift Voucher

Website



18 Holes of Golf for One.

Website



$50 Gift Card - May be applied toward food and beverage purchases

Website
$105
Dining, Leisure, Shopping
Mary Koen
39
Blackback Pub ($50 Value) (Waterbury ), Bridgeside Books ($30 Value) (Waterbury ), Jeremy Ayers Pottery ($25 Value) (Waterbury )


$50 Gift Certificate

Website



$30 Gift Card

Website



$25 Gift Certificate

Website
$105
Dining, Entertainment, Shopping
Mike Callahan
40
Dunkin' ($50 Value) (Any location), Jericho Cafe & Tavern ($30 Value) (Jericho ), Snowflake Chocolates ($28 Value) (Jericho, So Burlington)


$50 Gift Basket - Includes (2) $10 gift cards, (2) Dunkin' Sipper 16 oz tumblers, (5) reusable straws, (1) 36" inflatable swim tube, (1) gift basket. Note: Winner must be able to pick up the prize locally.

Website



$30 Gift Card

Website




1 Pound Milk & Dark Deluxe Assorted Chocolates

Website
$108
Dining, Shopping
Deborah Shepard
41
Jamie Two Coats Toy Shop ($50 Value) (Shelburne), Pauline's Restaurant ($50 Value) (So Burlington), Shelburne Country Store ($13 Value) (Shelburne)


$50 Gift Certificate

Website




$50 Gift Certificate

Website




1 Pound Homemade Fudge

Website
$113
Dining, Shopping
Joanna Weinstock
42
Burlington Paint and Sip Studio ($70 Value) (Burlington), Montstream Studio ($20 Value) (Burlington), Three Brothers Pizza ($25 Value) (Colchester)


2 seats to any regular event

Website



$20 Gift Certificate - Prints and cards of Vermont's surrounding lakes, swimming holes and mountains, in all seasons

Website



$25 Gift Certificate - Three Brothers Pizza & Grill is a family-owned and run restaurant located in Colchester with a wide-ranging, delicious menu inspired by all three brothers and their close friends.

Website
$115
Dining, Entertainment, Shopping
Whitney Feininger
43
Montstream Studio ($60 Value) (Burlington), Phoenix Books ($25 Value) (Essex, Burlington, Rutland), Three Brothers Pizza ($25 Value) (Colchester)


$60 Gift Certificate - Prints and cards of Vermont's surrounding lakes, swimming holes and mountains, in all seasons

Website



$25 Gift Card to be used at any location - Essex, Burlington, Rutland. Find us on Facebook and Instagram: @phoenixbooksvt.

Website



$25 Gift Certificate - Three Brothers Pizza & Grill is a family-owned and run restaurant located in Colchester with a wide-ranging, delicious menu inspired by all three brothers and their close friends.

Website
$110
Dining, Leisure, Shopping
William Giglio
33
Blue Paddle Bistro ($50 Value) (So Hero), Snow Farm Vineyard ($50 Value) (So Hero), Three Brothers Pizza ($25 Value) (Colchester)


$50 Gift Card - Experience delicious, unpretentious food and a unique getaway in South Hero! Only 20 minutes from Burlington!

Website



$50 Gift Certificate - Experience craft wines from the heart of the Lake Champlain Islands

Website



$25 Gift Certificate - Three Brothers Pizza & Grill is a family-owned and run restaurant located in Colchester with a wide-ranging, delicious menu inspired by all three brothers and their close friends

Website
$125
Dining, Entertainment
kathy Provencher
34
BHAV Spa ($25 Value) (Waterbury ), Stowe Street Cafe ($25 Value) (Waterbury ), Waterbury Sports ($65 Value) (Waterbury )


$25 Gift Card

Website



$25 Gift Card

Website



1 Basic Ski or Bike Tune

Website
$115
Dining, Leisure, Self Care
Mike Callahan
35
Barnyard Wood Crafted Pizza ($50 Value) (Essex Jct), Essex Cinemas ($23 Value) (Essex), Nancy McSoley Hair Care ($39 Value) (Essex)


$50 Gift Card

Website



2 Movie passes - expire June 30, 2023

Website




$39 Gift Certificate for one haircut

Website
$112
Dining, Entertainment, Self Care
Mike Callahan
36
Maplehurst Florist ($40 Value) (Essex Jct), Sweet Clover Market ($50 Value) (Essex), Three Brothers Pizza ($25 Value) (Colchester)


$40 Gift Certificate - Maplehurst Florist is known for quality flowers, arrangements, and gifts for all special occasions

Website



$50 Gift Certificate - Providing small batch food that is fresh, minimally processed, and convenient sourced by local farms and small food producers

Website



$25 Gift Certificate - Three Brothers Pizza & Grill is a family-owned and run restaurant located in Colchester with a wide-ranging, delicious menu inspired by all three brothers and their close friends

Website
$115
Dining, Shopping
Helena Liu
29
Blossom Nail Salon VT ($20 Value) (So Burlington), Rod Cain Massage Therapy ($95 Value) (Burlington)


$20 Gift Certificate

Website




One 60 min custom massage

Website
$115
Self Care
Casey Corcoran
31
Shelburne Farms ($75 Value) (Shelburne), Willow House ($50 Value) (Shelburne)


1 year family membership

Website



$50 Gift Certificate - Good for any merchandise at our store in Shelburne VT

Website
$125
Leisure, Shopping
Sarah Wright
32
Milton Veterinary Hospital ($66 Value) (Milton), Pet Food Warehouse ($50 Value) (So Burlington, Shelburne)


1 Well Pet Examination

Website




$50 Gift Card

Website
$116
Pet Care
Ellen Cohen
49
Gills Point S Tire & Auto Service ($75 Value) (Any location), Texas Roadhouse ($30 Value) (Any location)


$75 Gift Certificate Toward Tires or Any Service

Website



$30 Gift Certificate - Dinner For Two

Website
$105
Automotive, Dining
Carol Talley
76
Pet Food Warehouse ($50 Value) (So Burlington, Shelburne), The Farmhouse Group ($50 Value) (Burlington, So Burlington)


$50 Gift Card

Website



$50 Gift Certificate - Valid at any of these locations: Guild Tavern, Pascolo Risorante, El Cortijo, Farmhouse Tap & Grill

Website
$100
Dining, Pet Care
Donna Burnett
28
Jerihill Ace Hardware (Jericho) ($100 Value)

Ace Gift Card

Website
$100
Shopping
Casey Corcoran
30
Axel's Gallery & Frame Shop (Waterbury ) ($125 Value)

Gift Certificate for a matted and framed print by artist Caroline Tavalli-Abar titled "Diamond - Origami Unfold"


Artist's Website

Gallery Website
$125
Shopping
Lori Lacroix
58
Purple Sage (Essex) ($240 Value)

45 Minute private salt cave session for up to 8 people. The Salt Cave was designed to help you leave your worries behind with the aid of soft golden lighting from the Himalayan Salt, peaceful music, and comfortable lounge chairs.

Website
$240
Self Care
Alan Fletcher thanks
21
Fiddlehead Brewing Company (Shelburne) ($125 Value)

Gift Card

Website
$125
Shopping
Eileen Teehan
22
Autosmith LLC (Jericho ) ($100 Value)

Gift Certificate

Website
$100
Automotive
Kathleen Kort
23
Salaam Clothing (Berlin) ($100 Value)

Gift Certificate

Website
$100
Shopping
Karen LaBelle
24
Elegant Floors (Shelburne) ($100 Value)

Use towards any flooring, no minimum purchase

Website
$100
Shopping
Karen Bogdan
25
Opulenza Designs (Online) ($100 Value)

Redeem the gift certificate exclusively through your Opulenza Designs representative June Gulla

Website
$100
Shopping
Cathy Buck
26
Hed2Toe Salon & Luxury Consignment Boutique (So Burlington) ($150 Value)

Hair products - ORIBE Priming Lotion, ORIBE Glaze for Beautiful Color, Bumble and bumble Gel, Bumble and bumble Sumotech

Website
$150
Self Care
Cathy Buck
27
Hed2Toe Salon & Luxury Consignment Boutique (So Burlington) ($127 Value)

Hair products - ORIBE Essential Antidote Conditioner, ORIBE Creme for Style, ORIBE Soft Molding Paste

Website
$127
Self Care
Ellen Gurwitz
14
Nan Patrick - Mary Kay (Burlington) ($150 Value)

Color Consult or Wardrobe Consult

Website
$150
Self Care
Holly Shea
15
Rod Cain Massage Therapy (Burlington) ($135 Value)

One 90 min custom massage

Website
$135
Self Care
Justine Zolotas
16
Jennifer Kahn Jewelry (Burlington) ($100 Value)

Jennifer Kahn Jewelry, Empowering Jewelry for the Modern Bohemian, shop online at JenniferKahnjewelry.com or in store at our Soda Plant Studio on Pine St.

Website
$100
Shopping
Corey Ellane Austin
17
Home2 Suites Williston (Williston) ($500 Value)

One Night Stay in a King or 2 Queen Studio Suite

Website
$500
Entertainment
Karen Chase
18
The Links At Lang Farm (Essex Jct) ($114 Value)

18 Holes of Golf with Cart for Two

Website
$114
Leisure
John Collins
19
The Links At Lang Farm (Essex Jct) ($114 Value)

18 Holes of Golf with Cart for Two

Website
$114
Leisure
Larry Abrams
20
Doubletree By Hilton Burlington VT (So Burlington) ($260 Value)

One Overnight with Breakfast for Two

Website
$260
Entertainment
Emily Parenteau
7
The Wall Doctor (So Burlington) ($100 Value)

Gift Certificate

Website
$100
Shopping
Jennifer Lecuyer
8
Otter Creek Awnings (Williston) ($500 Value)

Gift Certificate

Website
$500
Shopping
Phyllis Simon
9
Burlington Country Club (Burlington) ($500 Value)

18 Holes of Golf for One Foursome with Carts

Website
$500
Leisure
Denise Mercadante
10
Kinney Drugs (Any location) ($100 Value)

Redeemable for merchandise & prescriptions at any location

Website
$100
Shopping
Larry Abrams
11
Comfort Inn & Suites South Burlington (So Burlington) ($400 Value)

Two Night Stay and Breakfast for Two

Website
$400
Entertainment
Debra Marcoux
12
Spare Time (Colchester) ($120 Value)

Party for 8 with 1 1/2 Hours of Bowling and Shoes

Website
$120
Leisure
Cassandra McDonough
13
Shear Classic Hair Designs (Milton) ($100 Value)

Gift Certificate for Salon Services

Website
$100
Self Care
Karen Bouffard
1
Champlain Valley Exposition (Essex Jct) ($100 Value)

2022 Fair - Six admission tickets (adult or child) and two $15 ride cards

Website
$100
Leisure
Carol Emery
2
Hilton Burlington Lake Champlain (Burlington) ($358 Value)

A complimentary 2-night stay in a Standard City View Room with taxes and breakfast included

Website
$358
Entertainment
BARRY BUTKUS
3
Synergy Fitness (Williston) ($199 Value)

A three month membership

Website
$199
Self Care
kristen bures
4
International Sailing School and Club (Colchester) ($300 Value)

1/2 Day Sailing Excursion For 4

Website
$300
Leisure
Eugenie Doyle
5
PT 360 (Williston) ($150 Value)

10 Pilates Classes

Website
$150
Self Care
Tregea Bevan
6
Inspired Closets (Williston) ($500 Value)

Gift Certificate

Website
$500
Shopping
#wtbp-table-2_445601_wrapper table {border-collapse: collapse;} #wtbp-table-2_445601_wrapper .wtbpFiltersWrapper select {max-width: 90%;} .wtbpModalContent {width: 80%;} .wtbpModalContent.wtbpModalContentForVariations {max-width: 600px;} a { color: #0031FF; } a:hover { color: #000000; } a:visited { color: #B800FF; }