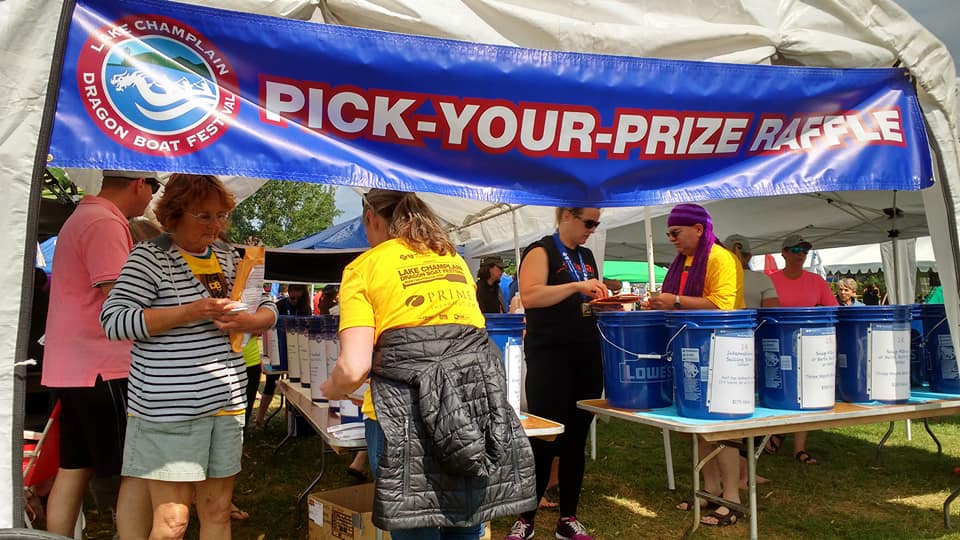 Take a chance at winning the prize of your dreams from this year's great offerings. Tickets are just $1 each and are available from any Dragonheart member, from many of our festival paddlers, and at the festival. You can even fill in the ticket and return to a Dragonhearter to put in the bucket for you.
The drawings will be held on Festival day, Sunday, August 2 2020, about an hour before the festival concludes. You do not need to be present to win—we will mail prizes to the winners as long as a name and address are on each ticket. (Tip: address labels make it easier to fill in your tickets.)
And as soon as the last winner has been announced, we'll take all of the remaining raffle tickets and do one last drawing for our Last Chance Prize: $200 cash!
Our 2020 Pick Your Prize event is still under development, but take a look at the 2019 results to get a better idea about this terrific fundraiser.
2019 Pick-Your-Prize WINNERS
The winner of the $200 Last Chance Prize is: Pam Blum
Certificates will be mailed to the winners.
Special Onsite Only Raffle
WINNER: Linda Rhoads
What child, grandchild, breast cancer survivor, or other lover of pink wouldn't cherish this adorable bear?
Stop in at the Pick-Your-Prize table and grab some $1 raffle tickets and it could be yours!
Big Bear Hugs to the Vermont Teddy Bear Company for their donation of this lovable little creature.