2022 Race Results
Hot! Hot! Hot! That's true about the weather and the blisteringly fast times in the races.
Congratulations to all our paddlers for a job well done!
Check out all the results divisional results below or download the full race results! Note that Community teams in Divisions A – D raced with 16 paddlers, while Sport Division teams had 20 paddlers in their boats.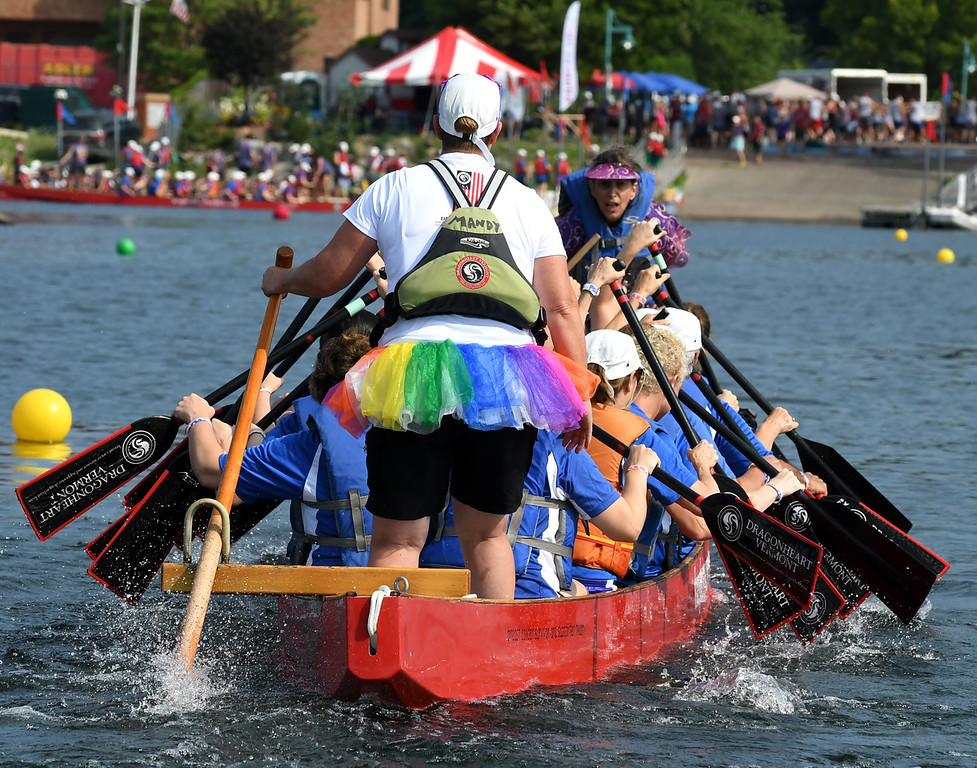 2022 Lake Champlain Dragon Boat Festival – Divisional Winners

Gold Medal
Time

Silver Medal

Time
Division A
Snap Fitness Warriors
00:54.70
Vermont Paddle Fitness
00:54.88

Division B

Rhythm & Blues
00:59.11
The Essex Resort & Spa –
Cookin' for a Cause
01:00.88
Division C
Cancer Avengers
00:58.68
CCS Crickets
01:00.08
Division D
Pull Together
01:01.17
UVMMC Make Waves for Wellness
01:05.67
Sport Division
Dragonheart Vermont Elite
00:49.34
BTBC Titans – Pro Max
00:49.93
Sisters at Heart Final
Dragonheart Magenta Sisters
00:58.07
Dragon Dream Team
00:58.17
And then there's our inaugural Splash for Cash Dash…
Our top three fundraising teams as of August 6th were: 1. Kim's One Boob Crew ($6,958), 2. Tachy for Ta-Tas ($6,625), and 3. Sweet Charity ($5,118).
After the Flower Ceremony finished, they took to the race course for a "celebratory dash" to the finish line and mixed up the order of things: Tachy for Ta-Tas took the lead with a race time of 1:02.62, Sweet Charity finished in 1:08.26, and Kim's One Boob Crew cruised on in at 1:14.97.
No matter the position–win, place or show–they are all winners in our book, having raised almost $24,000 by the time fundraising ended on August 31!!! THANK YOU TEAMS!
50/50 Raffle Results
Congratulations to Kelly F, paddler for UVM Home Health and Hospice, winner of the LCDBF 50/50 Raffle!
Kelly splashed home with $465! Yippee!
Pick-Your-Prize Raffle Results
With 81 great prizes, it's a long list! Please click on the button below to see if you were a winner!
2022 Spirit Award Winners
Everyone brought their fun and creative spirits to the Festival along with their athleticism and racing prowess. Here are the standouts!
Best Team Song/Cheer
Kim's One Boob Crew
Freedom & Unity
Best Team Name
Beta Motor Boaters
Love What We Do!
Best Team Tent Site
Sweet Charity
Sodexo BusyBEES
Best Team Shirt/Costume
Motley Crew
Tachy For Ta-Tas
Best Drummer Costume
Fire Breathing Lab Techs
Groovy UV