2021 Festival Results
What a beautiful day for dragon boat racing! We couldn't have asked for any better weather.
We weren't quite sure what the race times would be for our 10-person teams, but with a little push from a south wind, they were pretty close to our 2019 results. Half of the teams in the finals posted race times of less than one minute–a blisteringly fast pace for 10 people.
Congratulations to all our paddlers for a job well done!
Check out all the results divisional results below or download the full race results!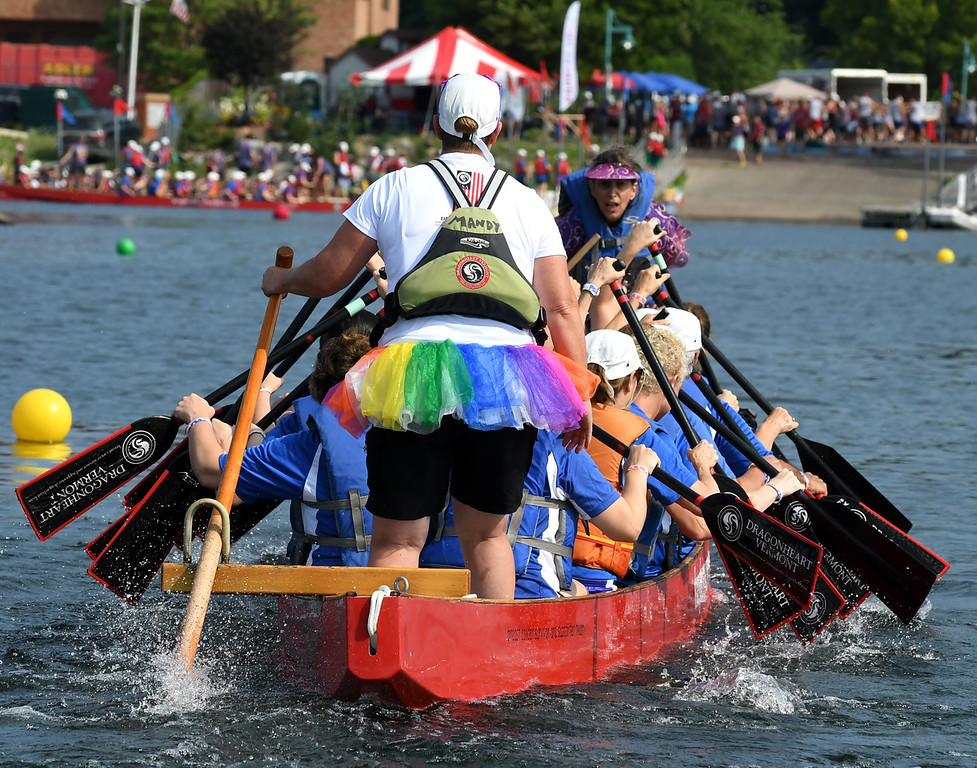 2021 Lake Champlain Dragon Boat Festival – Divisional Winners

Gold Medal
Time

Silver Medal

Time
Division A Community
DHVT Youth
00:56.39
Soaring Shamrocks
01:01.13

Division A Sport

BTBC Titans Bo Ba Tea
00:55.51
BTBC Titans Ba Ka
00:55.03
Division B
Soaring Ruckers
00:56.85
Snap Destroyoars
00:57.55
Division C
Cancer Avengers
01:02.18
Cape Cod BarBEERians
00:57.55
Division D
Beta Motor-Boaters
01:04.79
Traveling Dragons
01:13.77
Division E
Collins Boats of Glory
01:00.29
Leader of the PAC
01:05.71
And then…there was an exhibition race between the winners of the Sport and Community teams in Division A. The Boston Taiwanese Boat Club's Bo Ba Tea team edged out the Dragonheart Vermont Youth team by just over one tenth of a second to win the Dragon Braggin' Cup race with a time of 00:58.49 seconds.
Congratulations to both teams of young paddlers!
2021 Spirit Award Winners
Everyone brought their fun and creative spirits to the Festival along with their athleticism and racing prowess. Here are the standouts!
Best Team Song/Cheer
DHVT Sunshine Sisters
Hope in the Boat
Best Team Name
Plattsburgh Pacemaker
BTBC Titans
(all 3 Boston Taiwanese Boat Club crews)
Best Team Tent Site
Banchors Aweigh (Northfield Savings Bank)
UVMMC Dragon Techs
Best Team Shirt/Costume
Cape Cod BarBEERians
Beta Motor-Boaters
Best Drummer Costume
CVHHH Homecare Heroes
Veterans Dragon Boat USA